Many people turn to nut butters like Justin's for a quick and healthy snack that gets them through the day. But how exactly did Justin's come to be, and how do the products — including Justin's Almond Butter — stack up to alternatives like Betsy's Best?
What Is Justin's?
Justin's is a health-focused company that sells nut butters and nut-butter snacks made from simple ingredients. The company puts its focus on sustainability, sourcing locally wherever possible and striving to retain transparency with all ingredients and practices.
Back in 2004, Justin Gold moved from Pennsylvania to Boulder, Colorado, for greater access to the outdoor lifestyle. He wanted a healthy, protein-rich way to refuel and began blending nut butters in his kitchen. These nut butters featured his own flavor combinations, and they served him well on many adventures.
His housemates grew to love the taste too, encouraging him to sell his nut butters at the Boulder Farmers Market. He created a business plan, used an FDA-compliant facility, and sold his first four flavors — under the name Justin's — to wild success.
Within a few years, Justin's Almond Butter and other nut butter jars had made their appearance in local retail stores, along with the first squeeze packs. In 2007, a local producer loan from Whole Foods Market helped the company rise even further.
The company rebranded in 2009, introduced nut butter cups in 2011, and reached revenues of $50 million by 2015. The company took a new step in 2016, selling to Hormel Foods for $286 million to facilitate greater distribution and further support of sustainable goals. Today, Justin's remains committed to community health through partnerships with Conscious Alliance and Whole Planet Foundation.
What Does Justin's Offer?
You'll find a variety of nut butters in 1.15-ounce squeeze packs and 12-, 16-, and 28-ounce jars; newer products include snack packs and nut butter cups. Nut butters have a nutritional breakdown that ranges from 1-3 grams of dietary fiber, 4-8 grams of protein, and 2-7 grams of sugar.
A Look at Products and Price Points
According to their website, pricing for Justin's nut butter jars varies according to the type of nut butter. Cashew butters start at $13.99 for a 12-oz jar, while almond butters and hazelnut butters start at $13.99 for a 16-oz jar. Peanut butter is the most affordable of all Justin's nut butters, starting at $4.54 for a 16-oz jar and $9.74 for a 28-oz jar.
Squeeze packs start at $0.79 for peanut butter and $1.59 for all other nut butters. As for newer products, snack packs start at $2.29 and nut butter cups start at $2.49 for a two-pack.
Justin's began with four flavors, two of which are still around today: Honey Peanut and Honey Almond. The company also sells flavors like Cinnamon Almond, Maple Almond, Maple Cashew, Chocolate Hazelnut, and Vanilla Almond, along with Classic nut butters.
Why Do People Choose Justin's Almond Butter and Other Products?
From food allergies to dietary restrictions, and concerns about the environment to concerns about product quality, there are many reasons why people seek out health-conscious companies and their products.
People say they choose Justin's nut butters because the taste is like nothing else. Justin's Almond Butter in particular is a perennial favorite, with reviews touting everything from the textural consistency to the minimal ingredients.
Lori L. at Influencer notes the creamy texture, while Nichole W. from Pittsburgh, PA, likes the minimal sugars and rich protein. Other reviewers like Amanda B. from New York, NY, aren't convinced of the price, stating that although it is good, it is rather pricey for a nut butter. Bri C. from Bellevue, WA, fits in at the other end of the spectrum, noting a lack of flavor that left her unimpressed.
Some people choose Justin's nut butters out of curiosity, whether drawn in by the packaging or perhaps bored with their usual purchases. When local stores bring in new flavors, people may feel compelled to test them out and pass along their reviews.
Others choose a nut butter like Classic Almond or Classic Cashew due to peanut allergies that have prevented them from enjoying peanut butter. Dietary restrictions, such as a vegan or vegetarian diet, may compel others to seek out certain food alternatives.
Apart from these reasons, some people choose Justin's Almond Butter and other products because of the company's sustainable, ethical, and social stance. They appreciate how the company sources ingredients sustainably and takes efforts to help the community. They also like the high-quality products and the lack of filler ingredients.
Where to Find Justin's Products
You can find Justin's nut butters in a variety of grocery and supermarket stores, such as Whole Foods, Walmart, Target, Publix, Kroger, Safeway, Shaws, and many natural foods stores. You can also visit the Justin's website for online purchases.
Alternatives to Justin's
While Justin's Almond Butter and other nut butters offer a variety of flavors and uses, not all customers end up enjoying the product. Alternatives to Justin's could include Wild Friends, Barney Butter, and Artisana Organics, but the best option might just be Betsy's Best.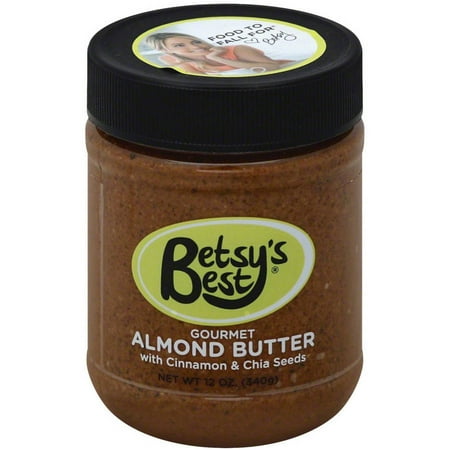 All About Betsy's Best
From its founding in 2012, Betsy's Best has grown from a one-woman kitchen operation to a fully established gourmet brand found in retail stores around the country.
Betsy Opyt, a registered dietitian, licensed diabetes educator and certified personal trainer, started making nut butters in her kitchen, much to the delight of her daughter, Peyton, and her clients from the Cleveland Clinic, Florida. Like Justin Gold from Justin's, Betsy then ventured into her local farmers market — the Shoppes at Vanderbilt Farmers Market in Naples, Florida. Betsy soon gathered new fans and increased her reach with Betsy's Best Gourmet Nut and Seed Butters.
She found greater exposure when Ron Nordmann asked her about starting a company for her products. Within a year, her nut butters had found their way to Whole Foods stores throughout Florida, before expanding to Bristol Farms and other health food stores in California and beyond.
Where to Find Betsy's Best Products
You can find these nut and seed butters in stores around the country including Kroger, Whole Foods, Florida, Bristol Farms, Fred Meyer, Wegmans, QFC, Fry's, and select health food stores. Of course, if you can't find it locally you can visit the Betsy's Best website, or head directly to the Betsy's Best store on Amazon that offers all delicious flavors in singles, two-packs and six-packs.
What Does Betsy's Best Offer?
You can choose from a variety of nut and seed butters in 12- and 16-ounce jars. Each product has between 2 and 4 grams of dietary fiber, 4-6 grams of protein, and 2-4 grams of sugar. Those concerned about sugar content will likely be drawn to Betsy's Best more than Justin's products, that can have up to 7 grams of sugar.
Unlike Justin's products, Betsy's Best nut and seed butters include chia seeds and replaces palm oil with sunflower oil. They also include Himalayan pink salt, demerara sugar, and organic honey.
A Look at Products and Price Points
Betsy's Best products are similar in price to Justin's. According to the Betsy's Best online store, cashew butters and almond butters start at $12.99 for a 12-ounce jar. Sunflower seed butters and peanut butters are more affordable, starting at $9.99 for a 16-ounce jar.
You'll find several options for sale, including Cardamom Cashew, Cinnamon Peanut, Cinnamon Sunflower Seed, and perennial favorites Toasted Coconut Cashew and Cinnamon Almond.
Why Should You Try Betsy's Best?
Simple: You'll likely fall in love the first time you try it. Betsy herself summed this up when she said, "As I always say, it only takes one bite and you're hooked."
Plenty of moms on Moms Meet loved the texture, flavor, and nutritional content, and they appreciated how many of their kids went back for more. Other moms didn't have as much success, and a few commented on the grainy chia seeds and slightly sweet taste.
However, judging by how many five-star reviews and exclamation points you'll see when searching for "Betsy's Best," it's clear that people across the country are loving these nut and seed butters.
Betsy's Best nut and seed butters offer more variety than Justin's, with the focus on cinnamon, cardamom or toasted coconut in cashew, almond, sunflower seed or peanut butter bases. All products are dairy-free, gluten-free, and non-GMO project verified, helping those with dietary restrictions to find delicious and nutritious nut butter spreads.
Betsy's Best and Justin's nut butter products are easy to combine into recipes and smoothies to give a touch of richness. While Justin's has some healthful recipes, Betsy's Best has a stronger focus on clean eating such as recipe dishes like Berry Divine Acai Bowl, Baked Kale Chips With Cardamom Cashew Butter, Betsy's Best Brussels Sprout Chopped Salad, Chicken Salad Stuffed Tomatoes and Crab Cakes With Lemon Cardamom Cashew Butter Aioli. Because of its bold flavor profiles, most people find that Betsy's Best are the best nut butters for mixing into all types of recipes. Other nut butters tend to not add much flavor.
While Justin's and Betsy's Best offer high-quality products made with simple, healthful ingredients, the final choice comes down to personal preference. If you like plain or lightly flavored nut butters, you'll probably find yourself drawn to Justin's. If you prefer a bit of crunch along with bold ingredients like toasted coconut, cardamom and cinnamon, you'll want to grab a jar of Betsy's Best.